The Los Angeles teachers' strike isn't all about wages. At its core, the strike is a fight against a hostile takeover of public schools by the superrich.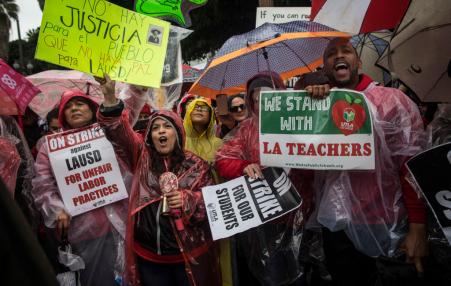 People rally in the streets of downtown in the pouring rain during a United Teachers Los Angeles strike on January 14, 2019 in Los Angeles, California. , Barbara Davidson / Getty Images
Unlike many labor actions, the Los Angeles teachers' strike is not really about wages or benefits. At its core, this is a struggle to defend public schools against the privatizing drive of a small-but-powerful group of billionaires.
It's always important to "know thy enemy." But this is especially true for the educators' movement in Los Angeles, which is directly challenging an unholy alliance of the some of richest individuals in the United States. Here's a short primer on the corporate "who's who" aiming to destroy public schools in LA — and across the nation.
The Walton Family
These initiatives have already had a major impact on Los Angeles. About 18 percent of students now attend charter schools, a rate far higher than in the rest of the country.
Doris Fischer
The Fishers' pro-privatization advocacy has also taken more direct forms. Using over $70 million of their personal wealth, Don and Doris Fisher founded the KIPP Foundation in 2000; it soon became the biggest charter network in the United States. With fifteen schools in Los Angeles alone, KIPP LA educates close to six thousand students.
If you look at the industries where these people [like Fisher] made their wealth, you can see why they have this idea that you have to squeeze labor to make your profits. If you have children in India making your clothing, your profit margin is very large. Similarly, if you use automation and low-cost education 'shock troops' to minimize the role of teachers . . . you minimize your education labor costs.
Reed Hastings
Eli Broad
Austin Beutner
For LA's teachers, students, and parents, Austin Beutner is currently enemy number one. Beutner is not only the handpicked representative of the democracy-subverting billionaires discussed above — he's one of these billionaires himself.
The Stakes
Beutner and his billionaire buddies have transformed Los Angeles into ground zero in nationwide struggle over public education. UTLA president Alex Caputo-Pearl is clear about the stakes:
In the same way that Betsy DeVos and Scott Pruitt attacked the very institutions they were appointed to lead, Austin Beutner was brought in to attack our public schools. They want to end public education as we know it. They're ambitious so we must be ambitious. It's not enough to win a salary increase when we may not have a school district in a few years.
At its heart, the struggle in Los Angeles is not just about the fate of public education. This is a strike for democracy — against the plans of a tiny clique of billionaires to unilaterally impose their vision for the world upon the working-class majority.
==
Eric Blanc writes on labor movements past and present. Formerly a high school teacher in the Bay Area, he is a doctoral student in the sociology department at New York University.
Posted from Jacobin