http://zinnedproject.org/2012/03/the-real-irish-american-story-not-taught-in-schools/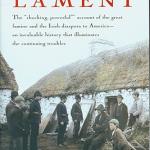 "Wear green on St. Patrick's Day or get pinched." That pretty much sums up the Irish-American "curriculum" that I learned when I was in school. Yes, I recall a nod to the so-called Potato Famine, but it was mentioned only in passing.
Sadly, today's high school textbooks continue to largely ignore the famine, despite the fact that it was responsible for unimaginable suffering and the deaths of more than a million Irish peasants, and that it triggered the greatest wave of Irish immigration in U.S. history. Nor do textbooks make any attempt to help students link famines past and present.
Yet there is no shortage of material that can bring these dramatic events to life in the classroom. In my own high school social studies classes, I begin with Sinead O'Connor's haunting rendition of "Skibbereen," which includes the verse:
… Oh it's well I do remember, that bleak
            December day,
The landlord and the sheriff came, to drive
            Us all away
They set my roof on fire, with their cursed
            English spleen
And that's another reason why I left old
            Skibbereen.